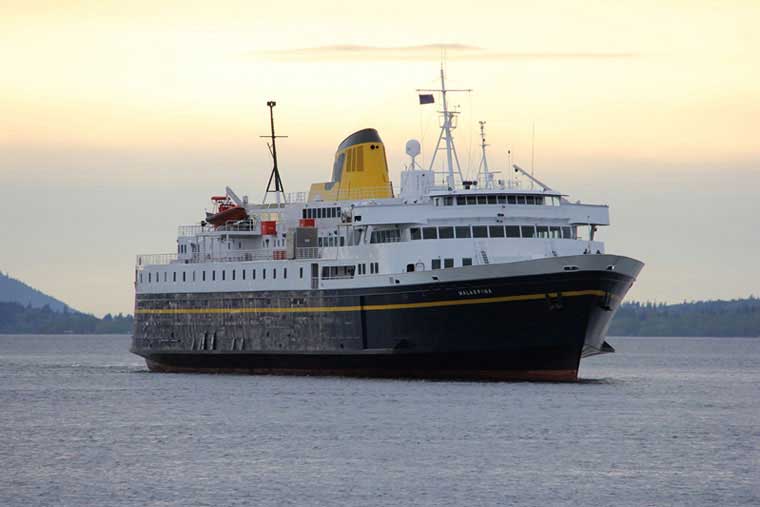 Image courtesy of AMHS website.
Juneau, AK (KINY) - There have been some issues with the Alaska Marine Highway System, particularly for those in Hoonah and Gustavus.
We talked with the new Director for AMHS, Shirley Marquardt, who said that due to unexpected extra maintenance on their vessels it has created some hang-ups with getting approval for sailing by the Coast Guard.
"Unfortunately, we have vessels that every time we take them in for lay-up, check-ups, and do scheduled work they are finding more and more work that has to be done before the Coast Guard will release them to sail. So the six-week lay-up that we worked into the schedule to be covered by someone else now becomes an eight or ten-week layup. Now we can't cover that extra gap because the vessel that was going to cover it, they have to go into lay-up and get worked on after that six week time period."
Marquardt wanted to assure Southeast Alaska that they are working diligently to get the ferry service back online.
"We are doing everything we can to try and get service to the communities, particularly during the holiday season. We really don't want to see people stuck. We've got a few more questions that have to be answered, some decisions that have to be made by the administration and we are hoping that we have everything we need by Monday and we can put the schedule out and then we can get folks from Hoonah and Gustavus particularly into Juneau and back on a round trip in mid-December."
She spoke to some of the solutions that they are exploring.
"We need vessels in the system that we can utilize throughout the system, for the most part."
"What we are trying to do, if you've heard about the day boats, the new ACF being modified from day boats, to have the ability to work the longer runs like the Laconte and Aurora. Then we move away from these service gaps when we have vessels go in for scheduled lay-ups."
Marquardt explained that most of the challenges for the Marine Highway System stems from a reduced budget.
"Most of the difficulties we're having with the service in the system can be found as directly attached to the budget that we've been given to work with the last several years and the aging of our fleet."
When it comes to the recent election, Marquardt says that they look forward to working with Mike Dunleavy and see his election as a positive for AMHS. She told us that they will soon be sharing their issues in Southeast in hopes for more support. They will be releasing their Summer 2019 schedule soon, as they are waiting for approval from Walker's office and other aspects of the overall process to resolve.
More information can be found on the Alaska Marine Highway website.