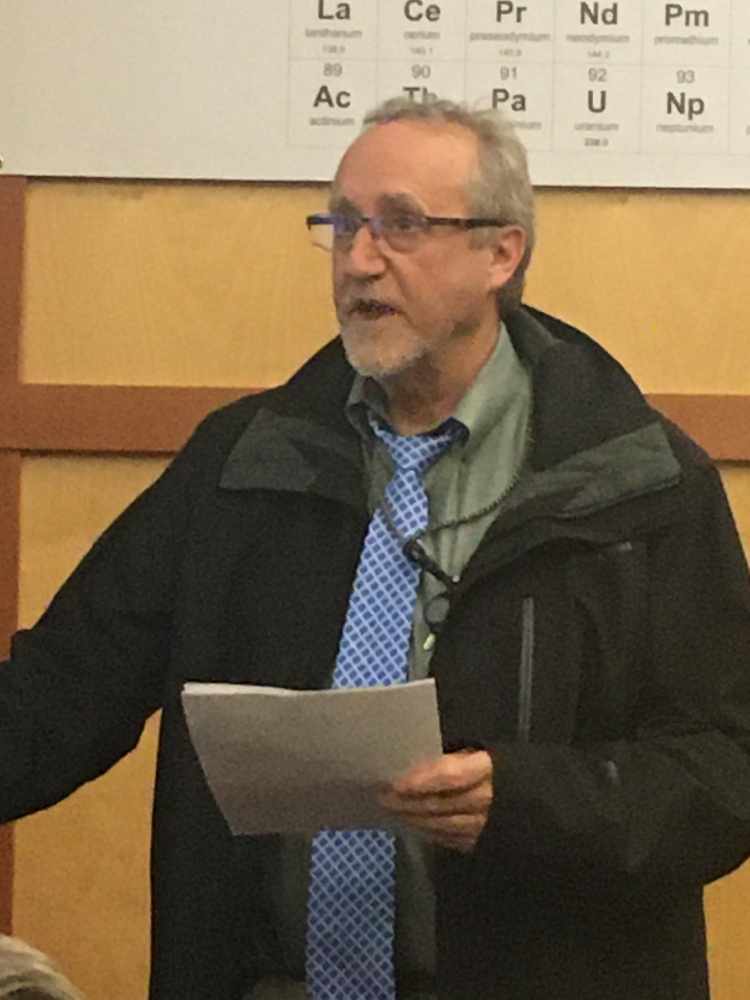 Alaska Department of Fish and Game Commissioner Doug Vincent-Lang. Photo credit to Charles Murphy.
Juneau, Alaska (KINY) - NOAA Fisheries hosted a hearing today at the University of Alaska Southeast to discuss critical habitat designations in Alaska.
Lisa Manning of NOAA Fisheries said final action on the proposed rule is September, 2020.
Critical habitat is defined as specific areas within the geographical area occupied by the species at the time it is listed on which are found those physical or biological features essential to the conservation of the species and which may require special management considerations or protection.
Designations must be based on best scientific data available and consideration of impacts, economic, national security and other impacts. Areas may be excluded if the benefits of exclusion outweigh the benefits of the designation and if the exclusion will not result in extinction of the species.
Federal agencies are required to ensure that actions they authorize, fund or carry out are not likely to destroy or adversely modify designated critical habitat.
The critical habitat designation does not establish any type of sanctuary, preserve or closed area. It does not affect private activities, like recreational boating, or use of private lands.
In 2016 there were 14 distinct population segments of humpback whales. Nine of them did not warrant listing. Four segments were listed as endangered. One was listed as threatened and in risk of extinction in the near future.
Alaskan waters are considered feeding grounds for two of the populations from Hawaii and Mexico. The Mexico segment is considered threatened. The Hawaii segment is not at risk.
Whales migrate to U.S. waters to feed and build energy reserves.
"They need to build up those energy reserves to maintain energy for long trips for feeding," Manning said.
NOAA found little economic impacts would occur due to the rule. They found only administrative costs for federal agencies would be altered.
The Center for Biological Diversity found the move could help protect migrating whales from ship strikes, entanglement in fishing gear, and oil spills.
The rule follows a court-approved agreement with the Center for Biological Diversity, Turtle Island Restoration Network and Wishtoyo Foundation to issue new protections. The groups had sued the Trump administration for failing to protect two Pacific Ocean humpback populations listed as endangered and a third as threatened under the Endangered Species Act.
Five areas in Alaska were excluded from the proposed critical habitat for the Hawaii segment. 78,690 square miles in western Alaska were considered critical habitat, including Bristol Bay, Bering Sea and the Gulf of Alaska. A study found that an estimated 22 humpback whales off California, Oregon and Washington die each year after being hit by ships. The Trump administration last year proposed to aggressively expand offshore oil drilling in the Pacific, a plan temporarily suspended earlier in 2019 until after next year's presidential election.
Another area that includes southeast Alaska was designated critical habitat for the Mexico segment.
Alaska Department of Fish and Game Commissioner Doug Vincent-Lang said he was disappointed that Alaska wasn't consulted on this proposed rule.
"Alaskans are proud of the feeding grounds off our coast, we have worked hard to maintain the sustainability of these waters. Many of the whales feed elsewhere," he added.
He said the conservation benefits are greatly exaggerated. He maintains the main feeding grounds of these whales are off the coasts of California, Oregon and Washington.
Public comment is open until December 9. Comments can be written, by mail, and electronically at www.regulations.gov