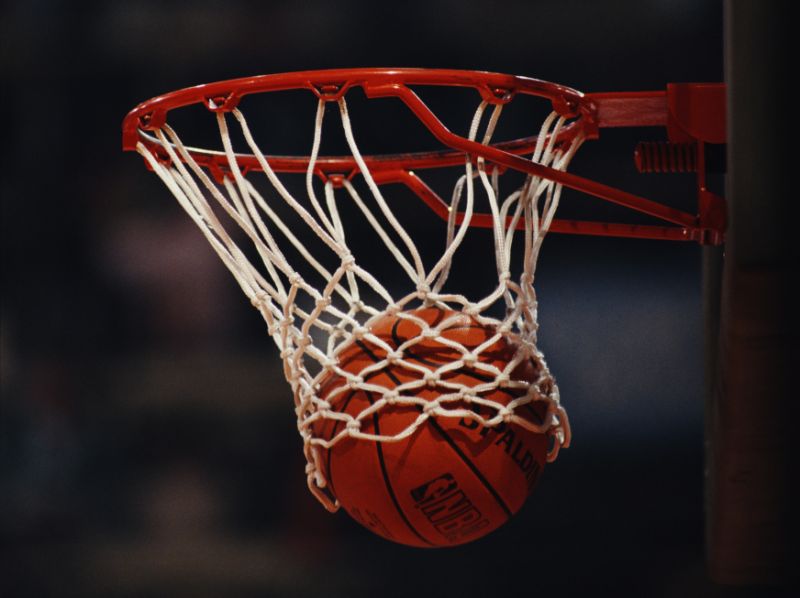 Juneau, Alaska (KINY) - The Thunder Mountain boys basketball team swept the season series against crosstown rival Juneau-Douglas on Saturday night.
The Thunder Mountain High School boys basketball team weathered a late-game rally to defeat Juneau-Douglas High School on Saturday night.
TMHS senior Bryson Echiverri made 1 of 2 free throws in the final second of regulation to seal the 53-52 win at the Thunderdome. The game-winning shot came after JDHS coughed up the ball with under five seconds to go. The ball bounced into the hands of Echiverri, who was fouled while heaving up a three-quarters-court shot.
"We got a lot of things we got to work on on Monday but it was great for us to fight through some adversity and get the win," TMHS senior Braden Jenkins said.
Brady Carandang scored a game-high 18 points and Jenkins had 16 points. Echiverri scored 13 points in the win.
Brock McCormick led the Crimson Bears with 17 points, Austin McCurley scored 13 points and Tad Watson added seven points.
The loss meant JDHS (3-17, 0-6 Southeast) will end the regular season winless against TMHS (14-5, 5-1 Southeast). Prior to Saturday, Friday night's 57-49 loss marked the closest JDHS came to defeating TMHS this season. JDHS lost to TMHS 62-50 and 65-44 earlier in the season, part of a 10-game losing streak.
TMHS trailed 27-19 at halftime. But Carandang, Jenkins and Echiverri all knocked down shots to bring the Falcons even with the Bears at 35-35 as time expired in the third quarter. Neither team led by more than five points in the fourth, which included three more ties.
McCormick tied the game at 47-all with four minutes to go and then made two free throws to put JDHS up 49-47.
JDHS retained the lead over the next three minutes before the Falcons answered.
Jenkins nailed a game-tying 3-pointer with 24 seconds left. TMHS coach John Blasco called timeout and set the play up for Jenkins.
"I was just trying to be confident in myself," Jenkins said. "Blasco, he really does a good job of making us feel good about ourselves in the huddle so I felt like I was going to make it."
JDHS concludes the regular season at home against Mt. Edgecumbe (Feb. 21-22) and Ketchikan (Feb. 28-29). TMHS plays at Ketchikan next weekend before hosting Wasilla Feb. 28-29. Both teams, plus Ketchikan, will compete for the Region V 4A Tournament championship March 10-14 at JDHS.