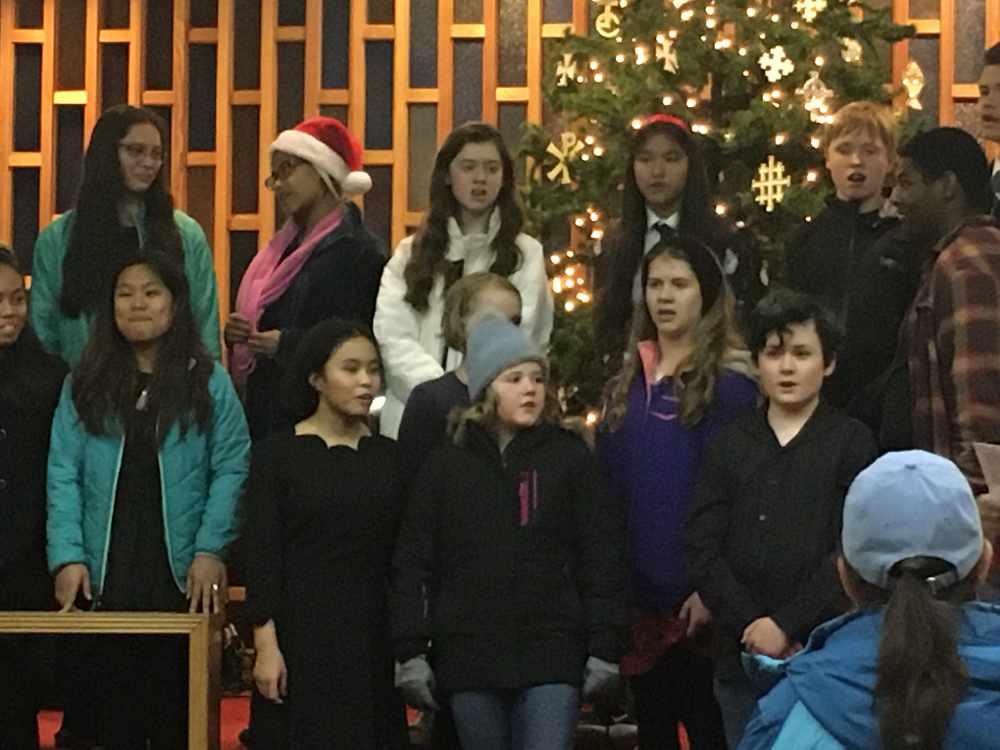 The Voices of Alaska Choir perform at Douglas Community United Methodist Church.
Douglas, Alaska (KINY) - The Douglas 4th of July Committee had another successful Tree Lighting Ceremony at Douglas Community United Methodist Church.
Committee President Molly McCormick welcomed the crowd with the ceremonial bell ring She explained the tree lighting was an annual tradition. She went on to say that miners in Douglas only gave employees two days off each year, July 4th and Christmas Day.
The Douglas Community United Methodist Church hosts the event each year. They provided the community hot cocoa
and baked goods.
Afterward, attendees went to Treadwell Arena for a free skate with Santa.
Assembly Members Alicia Hughes Skandijs and Greg Smith led the countdown to the tree lighting.
Hughes-Skandijs said the event was heart-warming, "As the nights get longer and the days get colder, we see in each other and we find in each other the warmth and the light that we are looking for."
Pastor Karen Dammann said she enjoyed her first lighting ceremony, "Very nice community event, a beautiful choir, and we had our decorations put up today. People sign up to make cookies and most of them are homemade. The women in the church sold 50 pies in 22 minutes this week.

Missouri Smyth and the Floyd Dryden Middle School Young Voices of Alaska performed a program and led the community
Sing-Along of Christmas carols like Dashing Through the Snow and Silent Night.
Audio from Pastor Karen Dammann