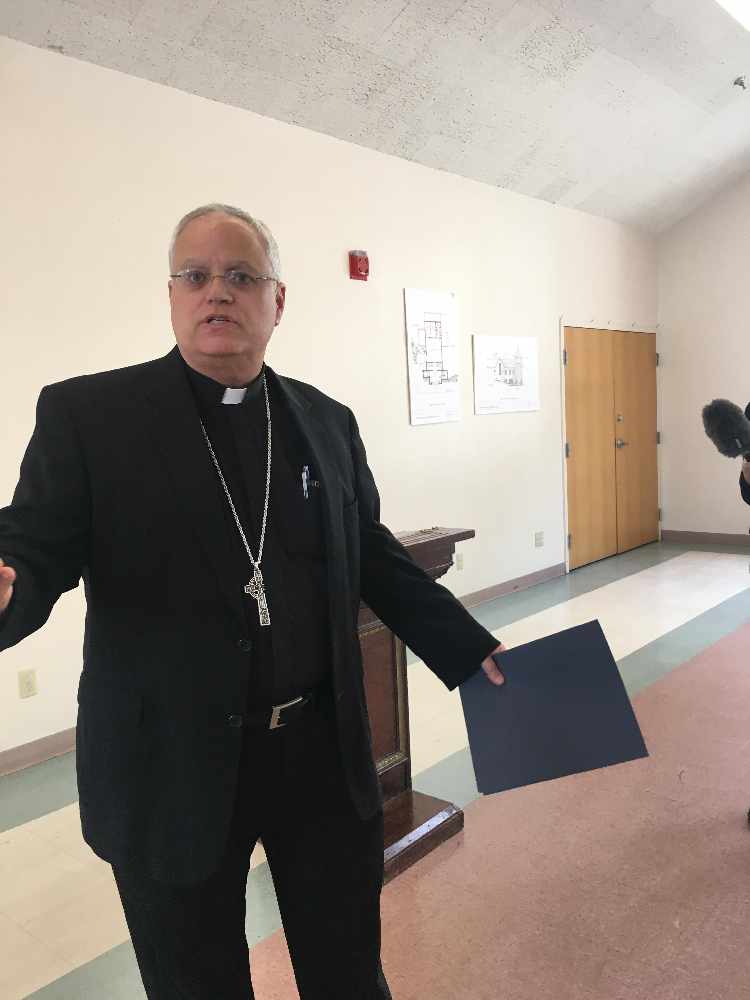 Bishop Andrew Bellisario prepares to answer questions from the press. Photo credit to Charles Murphy.
Juneau, Alaska (KINY) - An independent commission has found credible evidence that 7 people, six priests, and one religious brother, have engaged in sexual misconduct against minors and vulnerable adults in the Juneau Catholic Diocese since 1951.
The list included several priests who are now deceased.
The names are Francis Cowgill, Javier Gutierrerz, Patrick Hurley, Michael Nash, Edmund Penisten, Frederick Raehsler and Henry Leon Sweeney.
Bishop Andrew Bellisario said he sincerely apologizes for these incidents, "It brings a lot of shame, regret and sorrow to me personally as the Bishop of this Diocese. It is something that needs to be expressed to those that have been harmed."
The Bishop also encouraged other victims to come forward, "To anyone who has been hurt or harmed by any member of the church, a priest, or deacon, I do encourage you to come forward to make known what happened to you so some healing can take place in your lives."
He said the church took the allegations very seriously, "Sexual abuse of a minor or a vulnerable adult is a serious crime and it needs to be treated as a crime. It is also a serious sin in our religious world. It is very significant. We need to do all we can to make sure that people aren't in ministry that can harm somebody and secondly to make sure it does not happen in the future."
Bellisario said the independent commission he formed last December did good work as they looked through all the clerical and other personnell files in the diocese. He said this announcement does not mean the work ends here. He said they will look at other files if other allegations are made.
Fr. Michael Nash who served as director of Vocations died this year. He was accused of sexual misconduct with children between 1979 and 1982 when he worked in that position. He also worked at St. Paul's Church, Holy Name Church and St. John's Mission in Klawock during those years.
Fr. Edmund Penisten, who last served in Klawock, is on administrative leave. He allegedly viewed child pornography in 2010 while working at St. Gregory Nazianzen in Sitka.
Fr. Frederick Raehsler returned to his religious community in 1993. He had been accused of sexual misconduct involving a minor between 1988 and 1993.
Fr. Javier Gutierrez was dismissed from the clergy in 2018. He had been sent to the Diocese of Tijuana, Mexico after working for seven years in various churches in Juneau, Ketchikan, Douglas, Skagway and Haines. Fr. Patrick Hurley returned to the religious order in 1985. He worked at the Cathedral of the Nativity of the Blessed Virgin Mary in Juneau where he was accused of sexual misconduct of minors in 1984 and 1985.
Fr. Francis Cowgill died in 2000. He was accused of misconduct while a priest in Haines, Anchorage and Kodiak between 1956 and 1964.
Fr. Henry Leo Sweeney died in 1959. He was convicted of assault with intent to rape and contributing to the delinquency of a minor in 1952. He served time in federal prison and then returned to active ministry. He served St. Gregory Church in Sitka in 1951 and Holy Name Church in Ketchikan between 1953 and 1956.
The Diocese could not determine how many allegations or victims of sexual misconduct have taken place in the diocese since 1951. They also couldn't determine if any priest or member of the clergy had been exonerated.
Bishop Bellisario said he thinks it is safe in the diocese today as they have increased training and other safeguards.