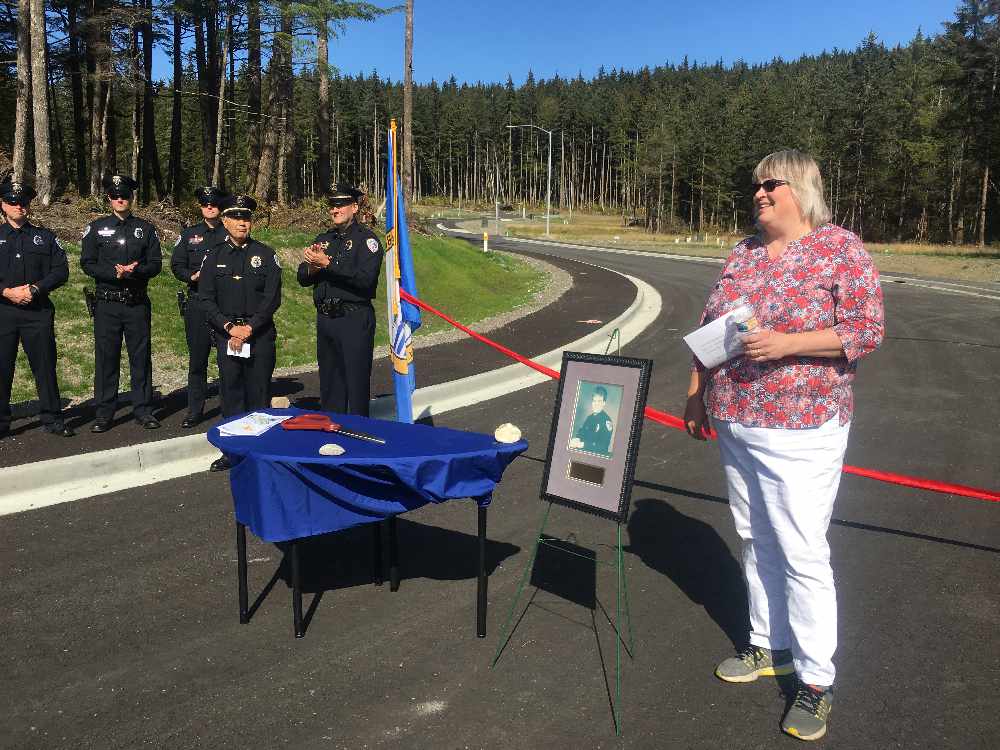 Mayor Beth Weldon during the celebration of the new Pederson Hill neighborhood.
Juneau, Alaska (KINY) - It is just asphalt, sidewalks, lots and gutters today, but CBJ officials said they love the potential of the new Pederson Hill subdivision.
Officials cut the ribbon on the new subdivision today. The first phase is 17 lots and eventually 86 new homes could be built.
The property was once a 50-cow dairy farm. Now it could produce new homes for local families.
The CBJ also renamed the road leading into the new neighborhood as Karl Reishus Boulevard after a Juneau Police officer tragically killed in the line of duty on May 4, 1992.
Mayor Beth Weldon said the project was part of the CBJ housing action plan. She said the CBJ has long sought a solution to the lack of affordable housing in Juneau and no plan seemed to work. "We decided to try something different. This is a great project."
Christ Lutheran Church worked a land swap with the CBJ to get the land needed for new housing. Pastor Cale Mead said the project has been all blessings for the church. "We had to clear out a lot of trees and that gave us a lot of exposure. It is also easier to see us from the highway. The Bible says love your neighbor and its great to actually have neighbors."
Police Chief Ed Mercer remembered Reishus as they both began law enforcement careers for the Sitka Police Department. He said Reishus gave his life to save the lives of two firemen. "His life mattered and he had selfless dedication to service."
Mercer said the project will mean Reishus is never forgotten.
Lands Committee Chair Mary Becker said the project symbolizes the past, the present and the future. "This project honors legacy celebrates the present and strives for the future."
She said she is excited for the day new families will move into the neighborhood.
"An outline for a great place to live has been laid out," she added.
City Manager Rorie Watt said in the past 20 years the local government has had to chance to meet the needs of its citizens. He said they decided to get into the land development business. He said for many, the jury is out on whether the project is a good idea.
"Part of the American dream is homeownership. This is an opportunity for Juneau families to achieve a piece of that dream."
Lands Department Director Greg Chaney said the various streets in the neighborhood will have Tlingit names. He said there is enough room to one day accommodate 200 new homes
He anticipated lot sales to begin in November. The actual costs of the lots are yet to be determined.