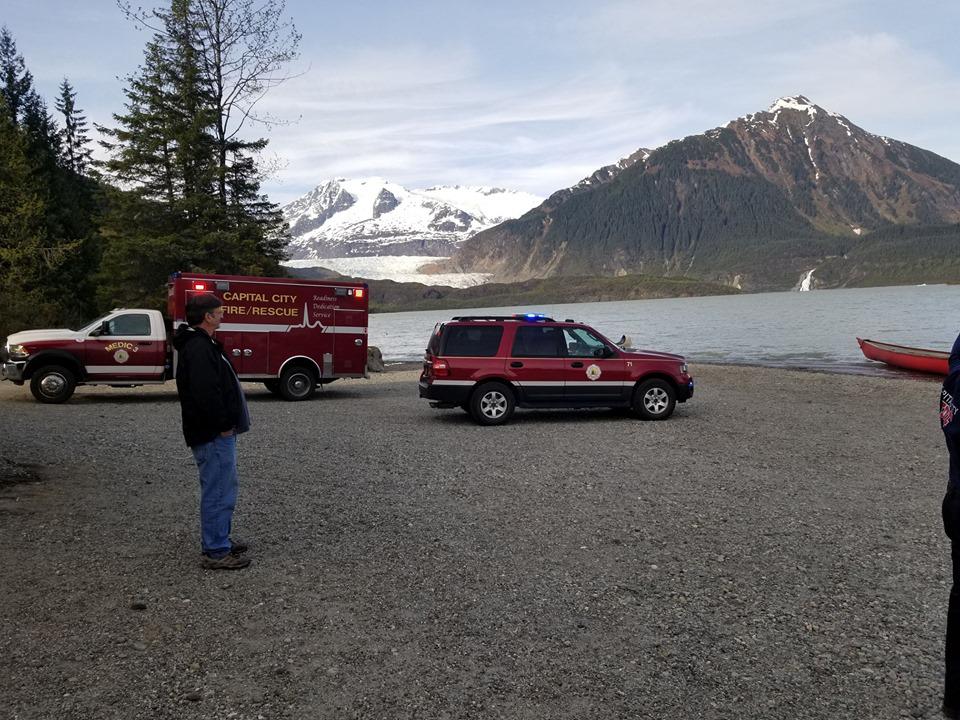 Photo courtesy of CCFR
Juneau, Alaska (KINY) - Alaska Travel Adventures helped rescue two people in the span of 90 minutes Monday.
Capital City Fire Rescue said Alaska Travel Adventures rescued a person stranded on the west side of the Mendenhall Glacier at about 5 pm. The person's pack raft had been blown away by a gust of wind. He was rescued without incident by the ATA skiff.
About an hour later CCFR received a report of a kayak flipped on Mendenhall Lake. The crew from station 3 responded with an engine, ambulance, duty officer and rescue boat. Off-duty and volunteer members of CCFR's water rescue team also responded.
Assistant Fire Chief Tod Chambers said the ambulance crew had just handled a previous call at the Visitor Center and arrived at Skater's Cabin boat launch ahead of the other responders. They used the ATA skiff and personnel to reach the patient.
Persons with the male were able to keep the patient's head above the water and were assisted by other kayakers in the area.
The kayaker was taken to shore for evaluation and was warmed in the ambulance. He refused further medical treatment.