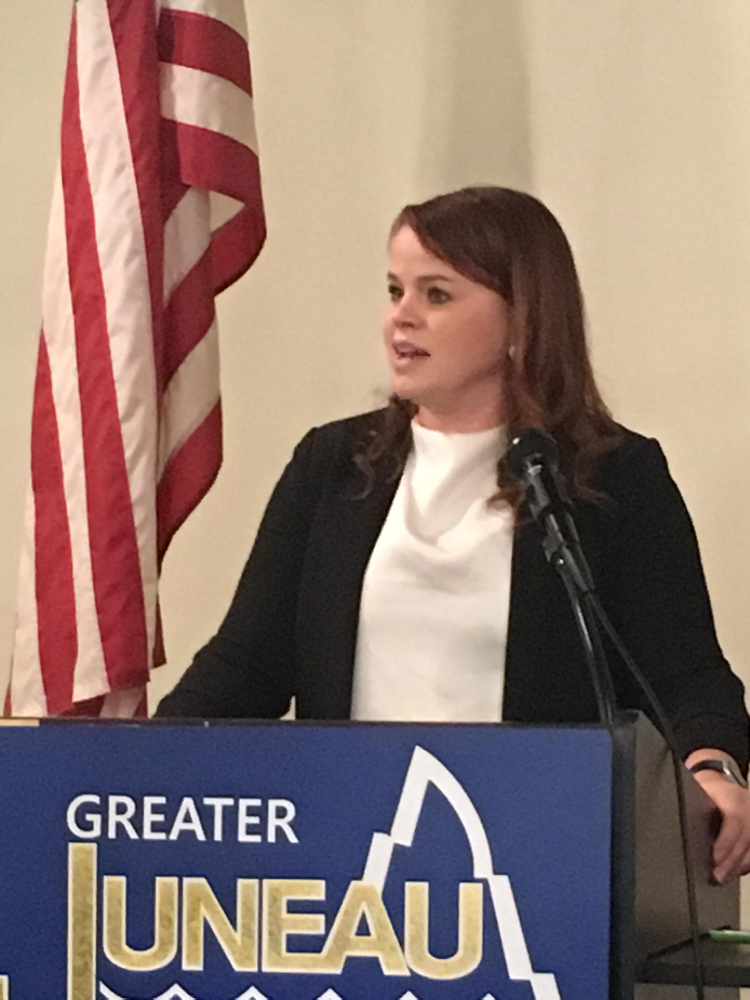 Juneau District Attorney Angie Kemp speaks to a large crowd at the Moose Lodge Thursday. Photo credit to Charles Murphy.
Juneau, Alaska (KINY) - Angie Kemp spoke on criminal justice reform and what she predicts will be the impacts felt in Juneau from House Bill 49.
Kemp has been a prosecutor for 11 years. She supervises both the Juneau and Sitka offices.
Kemp was born and raised in Juneau. She said criminal justice in Juneau matters to her. She focused her speech on the changes in law that impact businesses in Juneau.
"It has been a whirlwind for us as prosecutors. We went from a system we were well versed into an entire overhaul of the criminal justice system in 2016," she noted.
One of the biggest impacts was in drug crimes. Possession is now a Class A misdemeanor punishable by up to one year in jail.
Kemp said defendants work the system and know the punishments for drug crimes. She noted several times where dealers would have just under the weight of drugs required to file a felony charge.
The penalty for property crimes was also increased. There has been an increase in burglaries and robberies in Juneau in recent years. They created a new felony charge available for stores that are victimized by the same person over and over again.
"They have the same customers coming in and stealing over and over again, many say they can't stay in business," she added.
They also tightened up bail statues. She explained the risk assessment will be a factor in bail but not the factor. A person will be released from jail without bail unless they are a danger to the community or victim and or a flight risk.
Another change was to threats being made by people. The threat must cause a reasonable fear of serious physical injury, cause public inconvenience and includes other elements.
The law also toughens the penalty for violation of conditions of release for failure to appear in court. For a Class A misdemeanor, it is punishable by up to one year in jail. You can serve up to 90 days for a Class B misdemeanor if you fail to show up in court.
They also changed the law for online enticement and many sexual offenses.
They also require out of state sex offenders to register once they come to Alaska.
Almost all serious felony crimes, Class A or B, saw a one year increase in the minimum sentences allowed. For example, a first-time offender convicted of a Class A felony would have faced a minimum of three to six years. The new sentencing range is between four and seven years.
Misdemeanor sentences were also increased. For some Class B misdemeanors, the maximum sentence was 10 days. Now the maximum is 90 days.
Kemp said marijuana-impaired driving has been tough for prosecutors because there is no legal limit set in Alaska.
"Over 90 percent of the cases I prosecute have some sort of drug abuse connection," she added.
The DA will get another prosecutor and office assistant in the coming year to deal with an increase in caseloads. She said the legislation has given prosecutors tools to better fight crime.
"It is a challenge but we're getting there and we will work with what we have," she added.
The annual meeting of the Southeast Conference is scheduled from September 18-20 in Sitka. The theme this year is Building the Economy of Tomorrow
The annual Chamber Awards banquet is scheduled for Saturday, October 26 at Centennial Hall. The Citizen of the Year and the Lifetime Achievement Award winners will be announced.