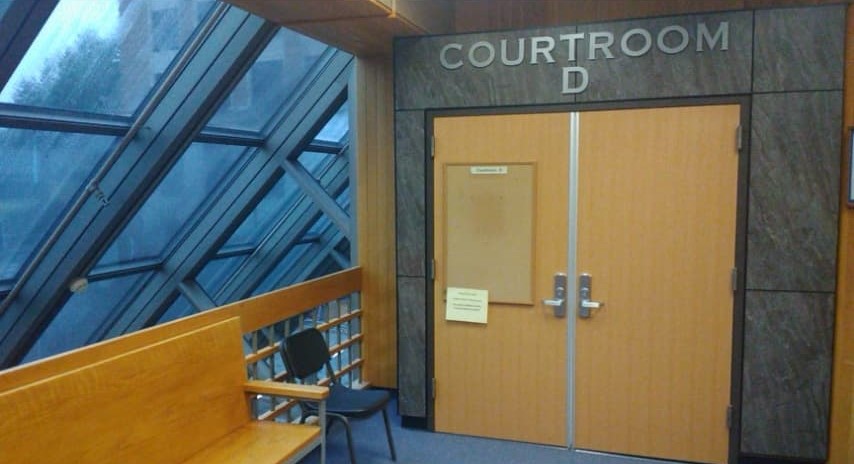 Courtroom D at the Dimond Courthouse in Juneau. (Photo by Greg Knight)
Juneau, Alaska (KINY) - The double-murder trial of Laron Graham began on Tuesday at the Dimond Courthouse in Juneau.
Graham is accused of shooting to death Robert Meieres and Elizabeth Tonsmeire at a West Juneau apartment in November 2015.
Opening arguments began in the courtroom of Judge Philip Pallenberg. A jury of nine women and six men were sworn in to hear the case against Graham.
Graham told the court that he intends to testify at the trial.
After a debate over jury instructions, Pallenberg said, "Brevity and simplicity are things to strive for in jury instructions." Pallenberg also took a seat in the jury box to determine whether jurors might see shackles being worn by Graham and debated whether that might influence jurors.
Graham has been noted for previous courtroom outbursts.
"Mr. Graham has been conducting himself reasonably," defense attorney Natasha Morris said. "There is no way he will be acting out."
"If a juror sees Mr. Graham in restraints, that might well require a mistrial," Pallenberg said.
Ultimately, Pallenberg ordered Graham's leg shackles removed.
Before opening arguments, Norris also noted that a purse that was photographed at the scene of the alleged crime has not been logged into evidence that was viewed by both the defense and prosecutors last week.
The trial is expected to last up to six weeks.