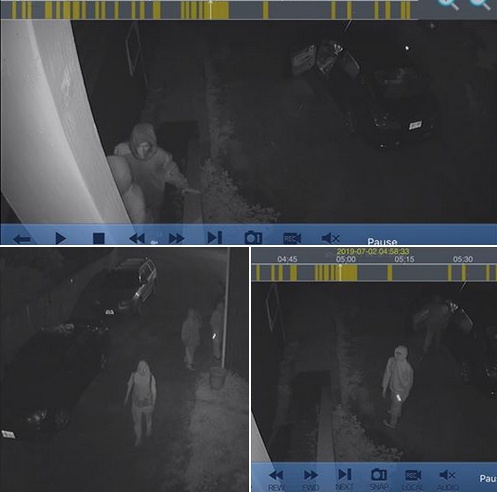 Images of the car thieves can be found on JPD Facebook page.
Juneau, Alaska (KINY) - The Juneau Police Department is seeking information from the public about a July car theft.
According to a police press release, on July 2 at about 1:30 a.m., while conducting patrol in the 300 block of South Franklin Street, a Juneau police officer located a grey 2014 Nissan, running and unoccupied. The Nissan had damages to the front end that appeared to be new and was later estimated at about $5,000.
"A registration check for the vehicle showed the owner lived in the area of Sitka Street," the report states. "Officers contacted the owner of the vehicle at their residence on Sitka Street, who was unaware the vehicle was missing. The owner reported they last saw the vehicle parked at their residence around 5:00 PM the previous day and the keys to the vehicle had been left hanging in the mudroom of the home. The owner confirmed the keys were no longer where they had left them. The owner told police that the door to the mudroom had been left unlocked."
The owner of the vehicle provided police with images from their home surveillance system, which recorded three individuals outside their home on the morning of July 2. The images show the three individuals right outside the owner's home and vehicle.
Photos from the surveillance system have been posted to the JPD Facebook page.
JPD is asking the publics assistance with identifying the individuals in the photos. If anyone has information regarding the identification of the individuals, please contact JPD at 586-0600. Tips can also be reported online at juneaucrimeline.com.