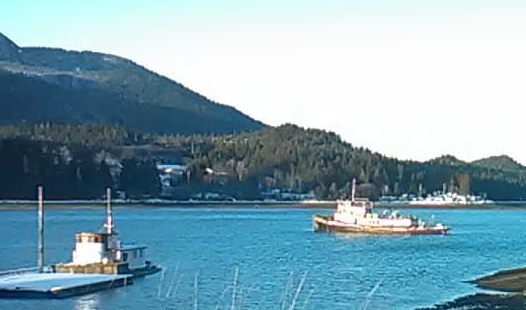 Juneau, Alaska (KINY) - The ultimate fate of the defunct tugboat Lumberman may be decided by Friday when staff from the CBJ Docks and Harbors Department meet with Coast Guard personnel.
Harbormaster Dave Borg said on Action Line that the want to discuss with the Coast Guard about cleaning the vessel so she is suitable for scuttling and come up with a plan for that. "We think that's going to be the most cost effective way to dispose of the boat," he said. Borg added that the Coast Guard is the regulatory authority for such operations.
In the meantime, the Lumberman remains inside the Cruise Ship Terminal Dock after he was towed from Gastineau Channel.
Meanwhile, Port Director Carl Uchytil says they will pursue a judgment against the owner of the Lumberman, Brandon Mattson.
The derelict vessel was left abandoned in Gastineau Channel for years.