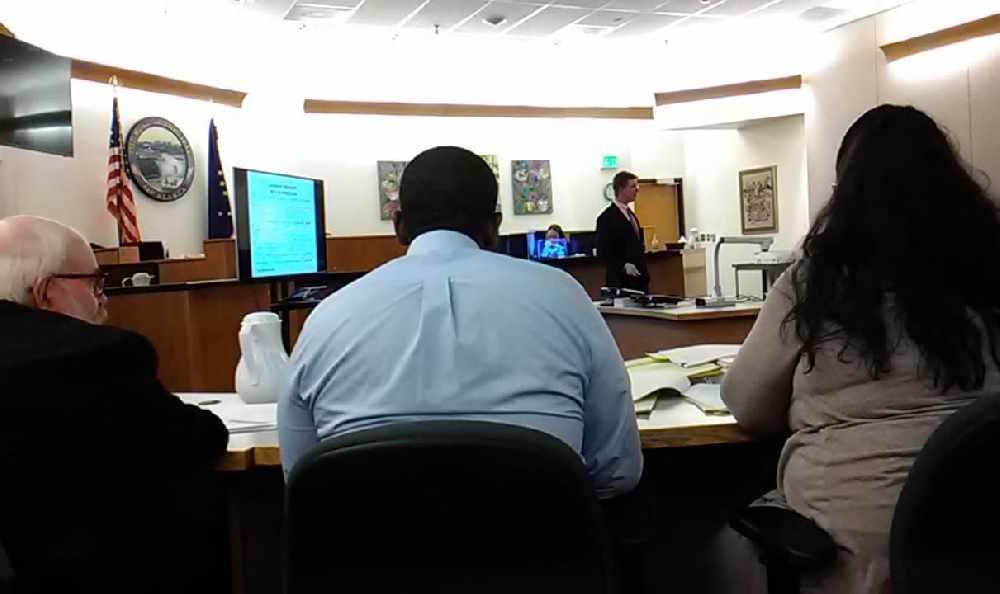 Prosecutor John Darnall (standing, second from right) delivers his closing arguments as Laron Graham (center) and his attorneys listen. (Phot by Greg Knight)
Juneau, Alaska (KINY) - The prosecution and defense in the double-murder trial of Laron Graham presented their closing arguments Monday in the courtroom of Judge Phillip Pallenberg.
Graham is accused of shooting to death Robert Meieres and Elizabeth Tonsmeire at a Douglas Island apartment in November 2015.
Prosecutor John Darnall presented evidence of admissions by Graham on three separate occasions, cell phone records, and other issues brought up during trial.
"There were three people in that apartment, and only one left," Darnall told jurors.
Defense attorney Natasha Norris told jurors that witness James LeBlanc-Tweedy created a narrative of Graham's confession in order to secure a deal in a pending criminal matter Tweedy was involved with. She also told the jury that the state provided no evidence that Graham was actually at the residence during the times of the murders.
Norris also told jurors no established time of death has been established -- and that the state's entire case hinges on the testimony of Tweedy.
"The only just verdicts in this case is 'not guilty' and 'not guilty,'" Norris told jurors. "[Their case] is fictional ... it's something the state created."
Norris also told jurors about the standards of reasonable doubt in making their decision.
No murder weapon has ever been introduced as evidence in the case.
On Friday, Norris informed Pallenberg that Graham would decline to testify in his own defense in the case.
Pallenberg asked Graham if that was the way he wanted to proceed.
"It is," Graham said.
The 12 members now on the jury, nine women and three men, will decide the case. Two jurors were released from the pool to serve as alternates.
Graham faces up to life in prison if convicted.
Stay with KINY and News of the North for coverage of the verdict.