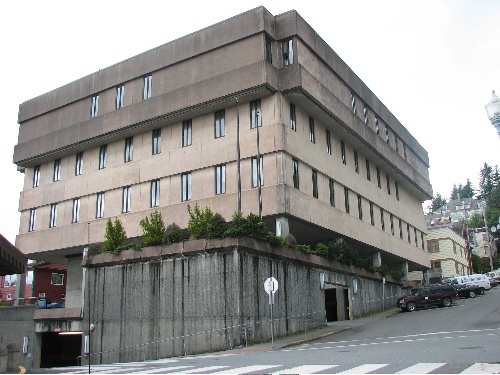 The state court house in downtown Ketchikan.
Metlakatla, Alaska (KINY) - A Metlakatla man has been indicted in Ketchikan after he allegedly threatened a police officer with an axe back in May.
A grand jury indicted 38-year-old Michael Jared Henderson on Thursday, charging him with three counts. The most serious charge is assault in the third degree, which is a Class C felony. He was additionally charged with misdemeanor resisting arrest and disorderly conduct.
The indictments indicate Henderson allegedly used an axe in the incident, which happened on May 24 near the community on Annette Island.
A Class C felony conviction is the least serious type of felony conviction in Alaska, but it can result in a prison term of up to five years and a fine of up to $50,000.
Metlakatla's police department and the office of Mayor Karl Cook did not immediately return calls for comment.