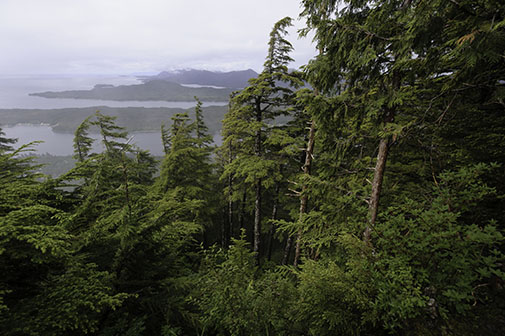 Juneau, Alaska (KINY) - The 30-day input period for the US Department of Agriculture's $25 million dollar investment initiative for the Southeast Alaska Sustainability Strategy, ended this week.
The strategy seeks to advance economic, ecological, and cultural sustainability in the region in a manner that is directed by local voices and builds on a variety of private-sector economic drivers to include tourism, fishing, and recreation.
The agency said they have received over 260 proposals and 70 meeting requests.
Southeast Alaska Sustainability Coordinator, Barb Miranda, said they are getting investment proposals ranging from things that the USDA already engages in.
"Food security, and helping support that in different communities. Mariculture proposals, habitat restoration," said Miranda. "Because USDA encompasses rural development and Natural Resources Conservation Service, as well as other programs here in Southeast, we're getting proposals for infrastructure projects like docks, community centers, tribal longhouses."
Tribal Relations Program Manager, Melinda Hernandez-Burke, thought the common needs that were voiced during the tribal consultations resonated with her.
"I think that a lot of them are in alignment with partner organizations such as the Southeast Sustainable Partnership, The Nature Conservancy, we've just heard some really amazing ideas and it just solidifies some of those core themes that we're seeing, and I think we'll continue to hear throughout the rest of the consultations that we will have."
There have been four formal tribal consultation sessions and two more on the way.
Miranda said they hope to have a draft by next month.
"We're hoping and we are planning on having a recommendation drafted by mid-November, and sent up to the Secretary of Agriculture for consideration and approval," she said. "I'm not sure what the timeline is beyond that, but right now we're looking at having these proposals and fulfilling our commitment to engage with the public."
Miranda was asked if any of the proposals will be kept for later consideration, she said absolutely.
"We're going to be bringing the whole one USDA approach to bear on this, there are so many proposal ideas that have come in that fit within other Department of Agriculture Grant Making or loan making, for the folks that put projects on the table. It really is an opportunity to have those looked at and scrutinized in a way that they might not have had the opportunity before."
"I'm just really tickled by the variety diversity and scope of proposals that we received and I'm really optimistic at being able to connect the dots so that we can really move this whole effort forward and the USDA can be a player in making sure that our local Southeast Alaska communities get what they need to thrive, she said.