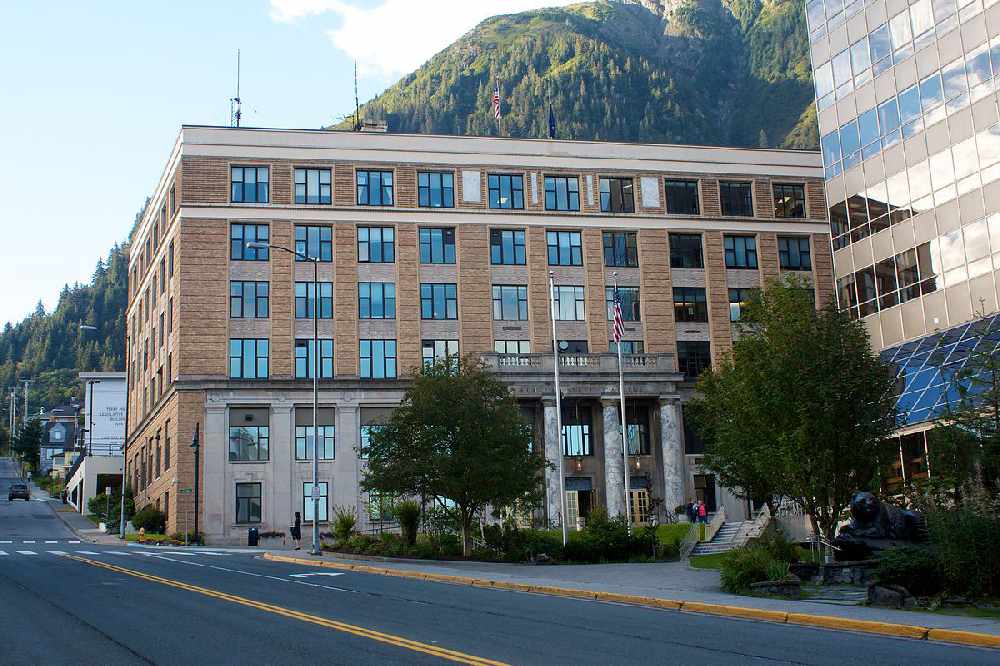 The Alaska State Capitol in downtown Juneau.
Anchorage, Alaska (KINY) - Rep. Laddie Shaw of Anchorage and former Alaska Sen. Dave Donley have applied to the Alaska Republican Party to succeed the late Sen. Chris Birch.
In a Facebook post from over the weekend, Shaw, who currently fills the seat left by Sen. Birch after he moved to the Senate, said he had to wrestle with the decision to apply for the seat.
"After giving it a lot of thought, I have decided to place my name in consideration for appointment to the Alaska Senate seat made vacant by the untimely passing of Sen. Chris Birch. I really had to wrestle with this decision. I love serving with my House colleagues, and I really enjoy my friends in the House Republican minority caucus. And most of all, I am aware that Chris leaves behind some mighty big shoes to fill.
"But one of the things you learn in the military – especially in the Navy SEALs – is that you don't ignore the call to serve. So when many of my neighbors, my constituents, and members of the House and Senate urged me to step forward to serve in this role, I knew it was a call I had to answer.
"I never forget what an honor it is to serve you in the State House, and how humbled I am to have that privilege. If I am selected for the Senate seat, I hope I will serve with the same humility, grace, and hard work that Chris himself served with."
Shaw is a retired Navy SEAL, former State Director of Veterans Affairs for the State of Alaska, and an instructor at the State Trooper Academy in Sitka.
A former Senator looks to return to Juneau
Donley said Saturday, in response to the requests and encouragement of many, that he submitted an application to be considered by the Alaska Republican Party for nomination to fill the vacancy.
Donley spent sixteen years as a state legislator, including service as House Labor and Commerce Chair, House Judiciary Chair, Senate Finance Vice-Chair, and Senate Finance Co-Chair.
"As I say in my application letter, I do so with great sorrow and a deep sense of duty. The tragic loss of Senator Birch as a father, husband, friend and public servant is being felt all across Alaska. The Birch family is in our thoughts and prayers. As a life-long Alaskan, I offered this application in anticipation of the great challenges and heavy responsibilities facing any new Senator for District M.
"I am currently honored to serve as a Member of the Anchorage School Board, Deputy Commissioner of the State of Alaska Department of Administration, and as a Colonel in the Alaska State Defense Force. I am very happy with the jobs and positions I am currently blessed to hold. My wife and I are faced with a difficult choice of family versus duty to our state. We are concerned with the impact of Legislative Service on our twins now entering sixth grade. We continue to struggle with this decision but for now and until we know who else steps forward, we felt it was necessary for me to offer my application.
"I am the only current elected official (Anchorage School Board) representing all of both House Districts 25 and 26 who is a registered Republican. I received over 17,500 votes for School Board (more than 8,500 more than my closest opponent) during the 2017 Municipal Election. I greatly enjoy my current positions and duties and have filed for re-election to the School Board which is of course contingent on the resolution of this matter."