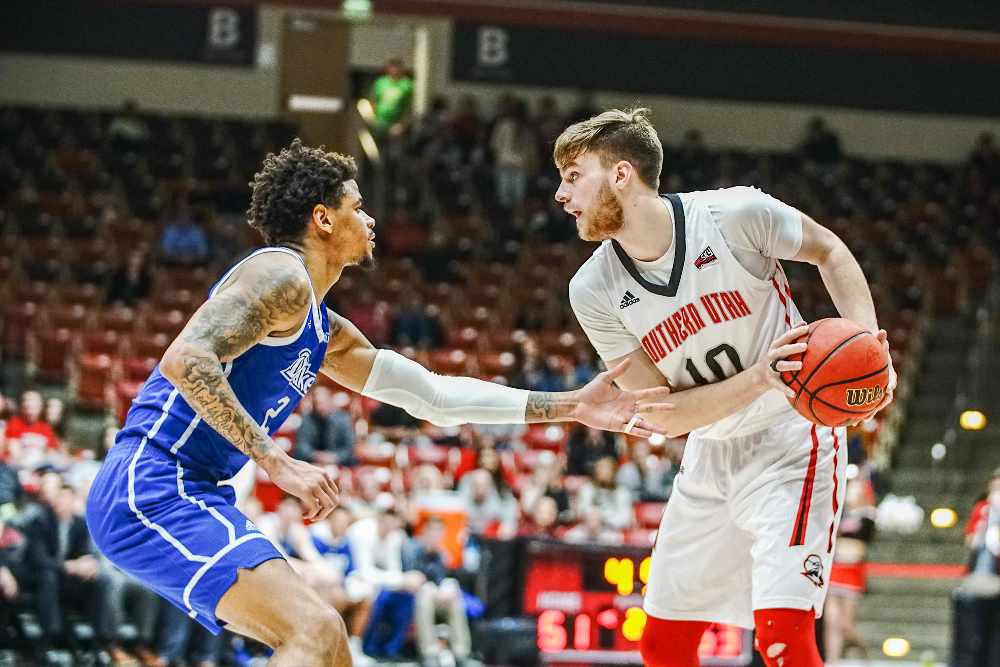 Jacob Calloway (No. 10) goes up against a defender from Drake University during his final season at SUU. (Photo courtesy SUU Athletics)
Cedar City, Utah (KINY) - A former Thunder Mountain High School and NCAA Division I standout basketball player is moving on to the professional ranks in Europe.
Jacob Calloway, 23, is a 2015 graduate of TMHS and player at Southern Utah University in Cedar City, Utah, is foregoing his senior season with the Thunderbirds to take a shot at playing professionally for the Pully Lausanne Foxes in Switzerland.
During his final year at TMHS, Calloway averaged 24 points, 11.5 rebounds, 4.5 steals and 3.2 assists per game. He is also the first Division I athlete in school history.
His junior season at SUU is even more impressive; Calloway appeared in all 34 games for the Thunderbirds, making 25 starts. He scored a career-high 20 points against San Diego Christian and averaged 9.7 points-per-game (331 career points).
Additionally, he finished second on the team with 52 3-point shots, pulled down 143 rebounds, while tallying up 41 assists, 19 steals, and 11 blocks.
Calloway finished 15th in the Big Sky in 3-point percentage at .382.
The Foxes play in the Swiss Basketball League, the highest basketball tier in Switzerland.